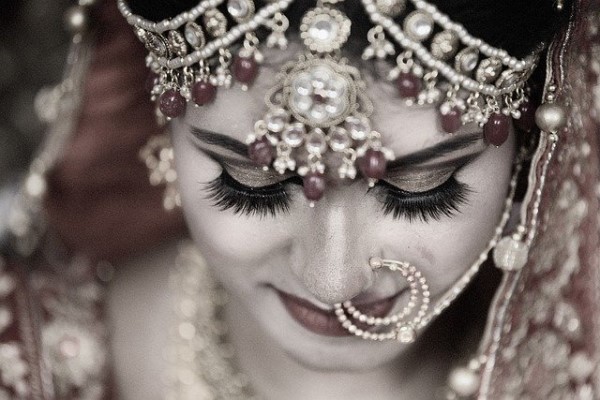 Your wedding day is probably the most important day of your life and it's every girls dream to look beautiful at her wedding. Therefore, a lot of thought and hard work goes into selecting the attire and jewelry for your D-day. When it comes to jewelry, the Matha Patti  is an important piece of ornament which is worn by almost every traditional Indian bride.
Matha Patti  is a Hindi word consisting of "Matha" meaning forehead and "Patti" meaning band. Commonly known as the 'mang tikka', it is worn along the hairline and is often the most important ornament defining your face. The design of Matha Pattis has evolved over time and the designs available today are drastically different from those worn by the previous generations. Although older traditional designs of Matha Pattis are still used, wearing a trending design or a traditional one depends on the taste of the bride. That said; let's have a look at the trending Matha Patti  designs for the Indian bride.
Matha Patti  with colored Tourmaline drops to match your outfit: A lot of Indian Brides these days not only like to color coordinate their outfit with the grooms outfit but also their lehenga with the jewelry. A single thick layer of Math Patti studded with stones having colored tourmaline drops matching your lehenga completes the entire bridal look. The simple act of color coordination is not just pleasing to the eyes but also makes the bride stand out.
Borla Patti: The Borla Patti is a type of Matha Patti  inspired from the Rajasthani culture. The traditional Rajput women used to wear a simple one string Matha Patti  with the centerpiece of the jewelry rising a little higher than the rest of the ornament. It is quite similar to the one that Deepika Padukone wore in her movie Padmavat. The typical Borla Patti headband has evolved to constitute elaborate designs adorned with different types of stones. The present trending designs can range from an elaborate single string design or a thick heavily decorated one with the conventional rising centerpiece, both of which add a royal touch to the entire bridal get up.
Floral Matha Patti : Floral jewelry has been the latest trend among the Indian Brides. A lot of women choose to wear floral jewelry for their pre-wedding functions like Mehendi, Haldi and Sangeet. A variety of designs are available when it comes to floral Matha Patti . They can be made of fresh or artificial flowers and can be customized or bought readymade. The most common design is the simple T shaped design with a beautiful centerpiece either made entirely of flowers or coupled with a plated metal in some parts. Irrespective of the design, the floral Matha Patti  imparts a modern and fresh look to the bride-to-be.
One sided Matha Patti : The single sided Matha Patti  has recently made its way into the Indian Brides wedding day trousseau. It consists of a beautiful centerpiece along with an intricately designed side band only on one side of the head. You can choose the thickness and number of side bands according to your personal preference. Wear it alone or couple with it with a jhoomar or passa on the other side to give a distinguished look to your bridal attire.
Multilayered Matha Patti : A multilayered Matha Pattis is preferred by most brides these days since they give a delicate and glamorous look. Most commonly it consists of a large sized centerpiece coupled with multiple thin metal plated strings radiating away from the centerpiece and covering half the head along with the hairline. This Matha Patti  design can be made of kundan, small sized pearls or tiny ghungroos and looks absolutely stunning. Wear with an open hairstyle or a bun hairstyle to achieve the most exquisite and graceful bridal look.
All of the above trending Matha Patti  designs for the Indian bride give definition to the face of the one wearing it. There is a huge variety of designs available ranging from royal traditional to quirky floral Matha Pattis which you can choose for different events in your wedding celebration. But regardless of the design, Matha Pattis will elevate any kind of outfit that you choose to wear. So go ahead and select the best Matha Patti  that complements your style.