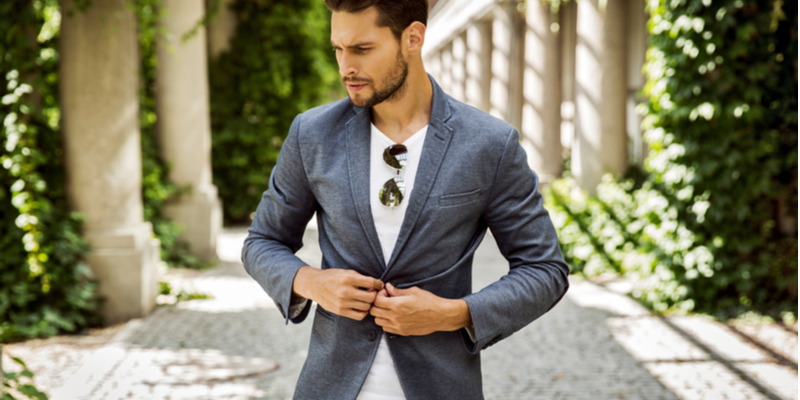 Being a sophisticated gentleman is not an easy job. Apart from manners, what you wear matters as well. If you want to look like a gentleman, you must know how to look handsome with perfect apparel. You might have a fancy wardrobe but it won't matter if your clothing isn't right. Here are 5 apparels that transform a man into a gentleman.
Blue Jeans
Classic blue jeans never run out of style and you can't ever go wrong with them. Blue jeans are the most versatile piece of clothing that a gentleman can own. You can wear it in any situation and with pretty much everything. You can pair it with a jacket or a sports coat, formal shoes or sneakers, a shirt or a t-shirt. One apparel for every occasion.
Plain Shirts And T-shirts
Plain shirts and t-shirts, especially white and other basic colors always stay in fashion. You can wear them on every occasion, formal or casual, big or small. They can always make a statement, be it bold or subtle. Wear them with jeans, or trousers. They always go well with suits and jackets. They are always the perfect piece of clothing.
Gray, Black or Navy Suit
A two-buttoned, single-breasted suit either in black, gray or navy is a wardrobe essential for every gentleman. They are super stylish, classic and suitable for work. You can also wear it to a party or evening occasions. Suits always make a gentleman look dapper.
Tux
No gentleman's wardrobe is complete without a solid black tux. A tuxedo makes your formal look smarter along with adding a pinch of flair to your appearance. Every time you wear it, you will leave your mark on the crowd.
Blazer
A blazer or a sports jacket is yet another piece of clothing that can transform a man into a gentleman. It makes you look smart and sophisticated without putting much effort. It fits for both casual and formal occasions. You can wear it with a shirt, a t-shirt, a trouser, jeans, sneakers, formal shoes, almost everything.
These are just 5 of the many apparels that can transform a man into a gentleman. There are many others like a navy cashmere jumper, a trench coat, a biker jacket, chinos, brogues, etc. You can accessorize them with a silk handkerchief, cufflinks, ties, etc.
Some of these apparel have been in style since forever and they never run out of fashion. Many of these clothing is lightweight and comfortable. Try to go with basic colors since they fit every occasion.  As a bonus, here are some tips that will help you carry these apparel in style and with comfort.
Don't roll the cuffs of your shirt slowly up your sleeves. Instead, flip it back and pull it up to just below your elbow. Now, roll up the bottom.
You must sometimes button the top button of your jacket, the middle one should always be buttoned and never button the last one.
Don't hang your sweaters, always fold them.
Use loafer socks instead of going sockless. They can't be detected and they soak up the sweat as well to prevent the odor.
Let your shoe breath before you wear it again. You must always keep at least two pairs of shoes. They both will last long.
Leather soap and oil can preserve your shoes after a long and tough winter.
If possible, use cedarwood hangers for hanging your shirts and suits. They repel moths and absorb moisture.
These few tricks and tips will help you become the gentleman you have always wanted to be and your clothes will last long as well.